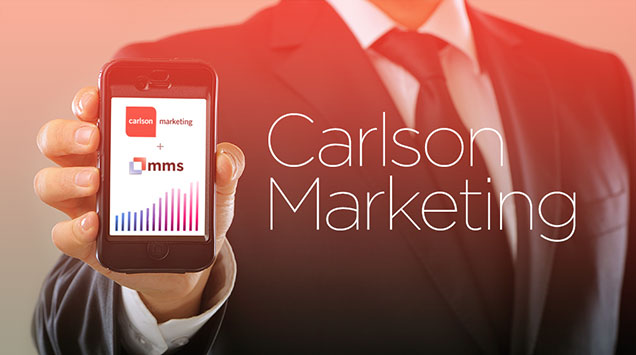 Carlson Marketing
Carlson Marketing, The Relationship Building Company, is a loyalty marketing and engagement expert. MMS is a mobile engagement expert. Together, we weave smart mobile engagement into the integrated marketing strategies of Carlson Marketing's clients – major global brands across key industry verticals. The partnership enables us to build stronger relationships across all channels – and deliver results.
Challenge
Carlson Marketing is The Relationship Building Company. They know how to help brands build the kind of relationships that add real value to their clients' bottom lines. They also know conversations need to happen wherever your customers are. When Carlson Marketing was looking to extend its already strong mobile offering, they turned to MMS to drive mobile messaging.
Solution
MMS supports Carlson Marketing with both technology and services to power smart mobile engagement solutions for clients across the spectrum of their loyalty and event marketing business.
Carlson Marketing uses the mms COIN messaging platform to power turnkey mobile marketing solutions such as alerts, sweepstakes, text-to-screen, and

much more.

MMS also partners with Carlson Marketing to help design and plan "multi-mobile" solutions for more customized and sophisticated multi-channel programs around

the globe.
Results
For its loyalty offering, Carlson Marketing is able to bring new meaning to the phrase: right time, right place, right offer, right result. Mobile has become a natural extension of the loyalty registration process. Once Carlson Marketing collects the mobile opt-in, they have the power to message participants through a 360 degree cross-channel approach. Mobile brings additional benefit to the dialogue, playing off of mobile's strengths of proximity and immediacy.
Mobile has also become a natural extension to event engagement. Carlson Marketing integrates mms solutions into pre-, during and post-event engagement at large-scale events. The audience can engage with questions via text, check out personalized agendas on their phones and

much more

MMS and Carlson Marketing have integrated mobile into multi-channel programs for leading brands in the CPG, Retail, Travel and Hospitality and Technology industries.